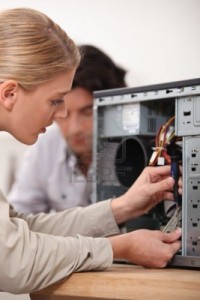 Educational requirements for individuals who aspire to be hired as computer technicians can vary, depending on the tasks and skills needed for a particular job. For instance, there are employers who seek degree holders, while others simply require candidates to have undergone training and receive a computer technician certification. Being in a highly competitive field, acquiring certification can help you become more credible and attract more prospective employers. Certifications acquired through training allow these employers to be assured that you indeed have the skills that they are looking for. These training sessions usually cover topics which include troubleshooting, maintenance, operating systems, hardware and software, and networking among others.
Certifications may be obtained through various means, there are programs available online and there are more specific ones such as the CompTIA A+ certification. Referred to as a starting point if you intend to pursue a career in IT, the CompTIA A+ is a requisite for many big IT companies such as Dell, Intel and Lenovo. It is also recognized by the U.S. Department of Defense. [1]
There are also certifications provided by Cisco through a number of their training programs. Cisco Systems, Inc. is an American multinational company that is known as a world leader in networking and various computer services. Some examples include CCENT and Cisco CCDA Certification Training Programs. These programs usually deal with networking concepts, equipping individuals who intend to work in this particular branch of the industry.
In other cases, after getting hired, companies require their computer technicians to undergo several months of training to gain knowledge about the products that they are going to handle. Job descriptions may differ for computer technicians. For instance, there are individuals who need to work more on networking and installation while others might be tasked to do system maintenance. Furthermore, it is important to note that there are also computer technicians who do training even as they work full-time for a company. They aim to be assured that their sets of skills are current and that they are in the know of the most recent updates in the industry. Accredited programs will also be a great help for you to have an opportunity of getting a salary increase.
There are a number of ways to get a computer technician certification. Training is important so that you may be certain that you will earn the accreditation that you are aiming to receive. In the long run, this will open up more opportunities for you. Eventually, it can also help you with how you want your career to be directed.